Let's Talk About Housing and Homelessness Data
Curious about how you can leverage the power of data to create radically better impact for the communities you serve? We kicked off 2022 by helping homelessness service organizations and others involved in the human services space understand just that with our most recent webinar, A Data-Driven Approach to Tackling Homelessness.
Josie Alleman, a former social worker now working as Exponent Case Management's Product Manager, kicked off the informative session. "We know that organizations who serve those affected by homelessness need a system that not only has well maintained HMIS compliance functionality, but also meets the needs of case management and housing coordination programs whose grant requirements can change frequently and where community impact needs to be measured for effectiveness."
From years of working with human services organizations, we know that homelessness service organizations can more efficiently meet their missions when they leverage their data. This webinar was developed to showcase how a data-driven system can increase operational efficiencies that help agency staff move through their day with ease and take the guesswork out of outcomes and performance reporting. We encourage you to access the on-demand webinar but offer a few key takeaways here: 
Exponent Case Management is thoughtfully-designed to support all of your housing programs and so much more! 
ECM's functionality is central to all types of housing programs, including Emergency Shelter, Transitional Housing, Rapid Re-housing, and Permanent Supportive Housing.
During the webinar, our Director of Exponent Case Management Business Development, Eric Magnuson walked through a real-world example of a case manager working with a family after a job loss and eviction.
By having visibility into the data, the case manager in this scenario, David, can see all the ways that the housing services organization has engaged with the family to ensure the appropriate steps have been taken including the HMIS assessment. From one easy-to-use interface, you can easily view the referral history, the assignment to an emergency shelter, the intake process the family went through and the ongoing case management process of helping the family stay housed. 
An intuitive system of checks and balances helps case managers like David easily identify missing information to maximize data quality and help to guide program staff from intake to assessment to service planning and provisioning.
ECM takes the guesswork out of reporting. 
Exponent Case Management is an intuitive platform designed for all your program management needs. It allows you to plan, track, review, manage and report on the progress of each client, ensuring they are receiving the services they need to reach self-sufficiency. An array of analytics tools like ECM Outcomes Manager, SF Reports and Dashboards, Einstein Predictive Analytics and Tableau can help you make data-driven decisions, inform next steps and report on client progress.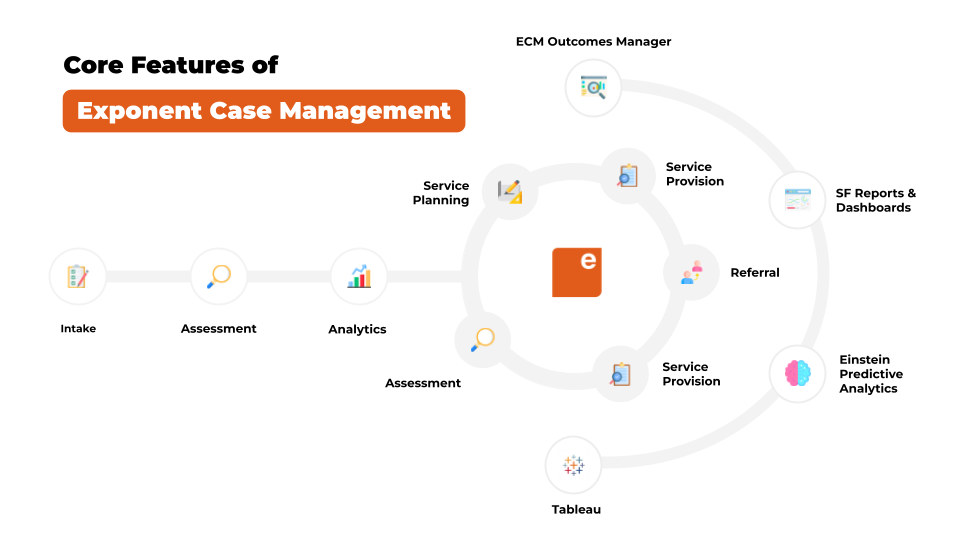 Check out the on-demand webinar for details on this, but did you know that ECM offers a variety of out-of-the-box reports as well as the ability to create custom reports? Those reports feed into visual dashboards that can help agency leadership answer questions like:
How many clients are we serving?

What is our enrollment volume over time?

Are we moving clients up in their self-sufficiency scores?

Are clients increasing their monthly income? This is particularly important for providing permanent solutions to homelessness. 
Dashboards can also help program staff to evaluate data quality alongside a plethora of other vital questions that help to assess progress and optimize outcomes. 
How complete are our data sets? 

Are we capturing names, social security numbers and dates of birth consistently? 
We can not only help you meet your program and case management needs but also provide dedicated support for migrating your data to your HMIS on a monthly, quarterly and annual basis.
You don't need to reinvent the wheel. 
A well-made point during this webinar, ECM takes full advantage of the core functionality of Salesforce to make data entry more efficient. There really is no good reason to reinvent the wheel when you have world-class development put into features designed to save you time and make your workflows more efficient. You can easily manage all functions of your program(s) and take advantage of Salesforce's out of the box offerings. As an added bonus, we can help you set up apps to manage relationships with landlords, quickly identify food banks, community centers, health clinics and a variety of other organizations that support your clients through the journey of self sufficiency. 
There are hundreds of integrations to take advantage of such as Outlook or Zoom Phone to automatically attach those interactions to the record without agency staff having to manually enter it. Speaking of taking advantage of functionality to help you radically improve your impact, during the webinar we showcased the ease of being able to directly upload and capture information through the ECM mobile app. An eviction letter instantly uploaded and tied to the record, an assessment taken while sitting down with the family; you can leverage the same features on mobile as on desktop. Making it simple and easy to record information in real time –  any place, any time. 
There are far too many takeaways to highlight in this brief blog. To experience the full breadth of possibilities, view the on-demand webinar: A Data-Driven Approach to Tackling Homelessness.