Exploring Salesforce's Nonprofit Cloud Case Management and Program Management Module
Salesforce's case management and program management modules provide a valuable tool for human service organizations to make the first steps in moving their data management away from spreadsheets and paper into a connected, cloud-based system.
The experts at Exponent Partners, the creators of Exponent Case Management (ECM), have been supporting the valuable work of human service organizations for over ten years and the coronavirus pandemic made human services organizations the front lines for a plethora of new and pre-existing societal problem. We are pleased to see this valuable tool included in Salesforce's non-profit success pack. Salesforce has also added their important voice, attention, resources, innovation, and scale to support these valuable organizations who often suffer from the non-profit 'starvation cycle.'  
As long-term experts in the non-profit Salesforce ecosystem, we are focused on delivering solutions that best serve the social sector and know firsthand how human and social services organizations underpin our social safety net. As a result, our team has come together to provide valuable insights into Salesforce's case management features. We'll explore some of the key benefits of Salesforce's case management module and how human service organizations, including those that run more complex or multiple programs, can benefit from using Exponent Case Management (ECM). ECM is a powerful cloud-based system built with the needs of complex human services organizations in mind, which is used by many leading non-profits across the country. 
Exploring Salesforce's Program Management Module
By Richard Saunders, Director of Product, Exponent Case Management
Human services organizations increasingly realize that they cannot solve significant, complex social problems independently and that effective data management is critical to successful programs. At the same time, funders increasingly require proof of results, which can place an administrative burden on organizations.
This means that organizations need to become more connected and results-focused, which has been a long-standing part of the vision of the team behind ECM. The key to achieving this vision is:
Integrated Systems of Care and Service

 that facilitate collaboration and remove data silos, and

An Impact Maturity Model

that helps non-profits move effectively from simply tracking data to outcomes management
It is through this lens that we view Salesforce's Program Management Module.
The Program Management Module is an open-source extension to the Non-profit Salesforce Success Pack. We believe it provides a valuable starting point for human service organizations to begin defining and tracking data for their Programs and Services.
Through Salesforce's case management module, non-profit organizations now have a simple, low-cost, cloud-based solution that empowers them to move off spreadsheets and paper and get started with the insightful data tracking of the Salesforce Nonprofit Cloud.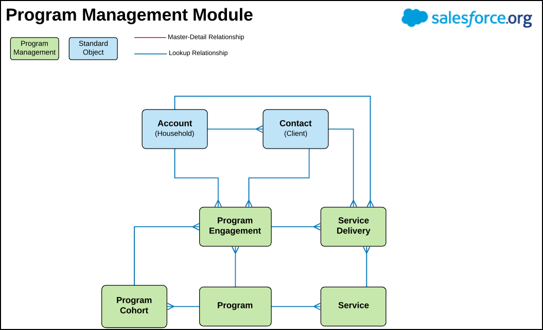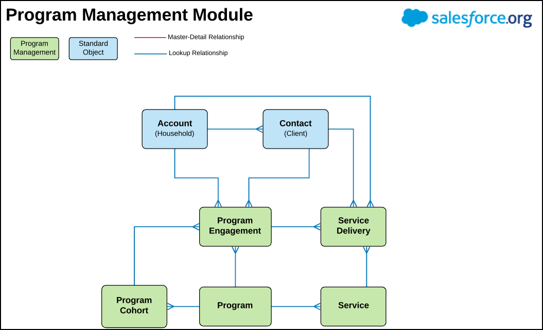 Why is the Salesforce Program Management Module a great solution for organizations that want to get started with data tracking?
Program and Service Definition

 – The program management module provides a basic but flexible data model to define your organization's program and services.

Participant Level Data Tracking.

The program management module provides a data model that enables you to track participants' engagements in your programs and record the services they receive so you can report outputs.

Program

 

Cohorts.

The module enables grouping participants within programs.

B

ulk Data Capture

. The module provides easily configurable elements for service data capture to facilitate smooth data entry. Supported service capture modes include capturing multiple services for a single participant or multiple services for different participants at once.

The 

Program Manager Homepage

 provides an overview of program activity.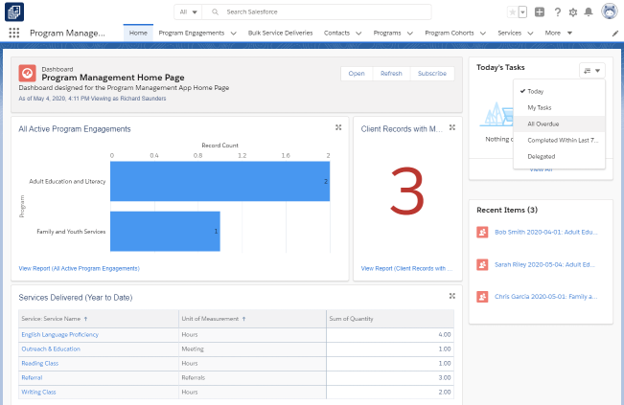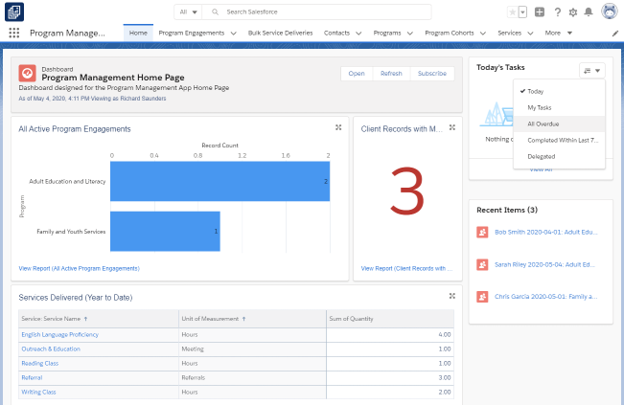 However, it is clear that many Human Services organizations, including those that offer multiple programs, will find that their needs are greater than what can be met through Saelfeforce's program management module. These organizations will find they will benefit from the powerful tools and services offered by Exponent Case Management which have been developed to meet the needs of complex human services organizations.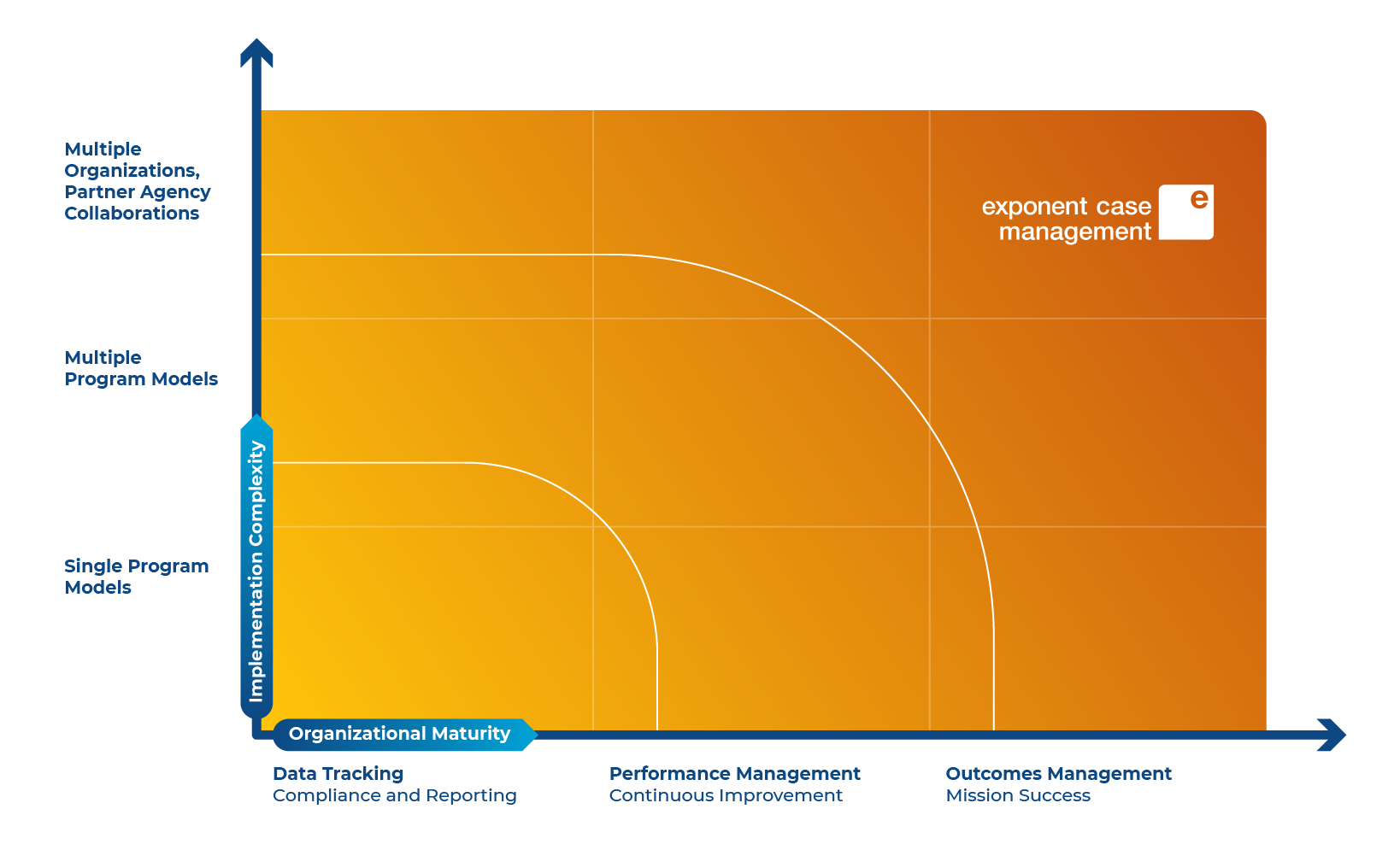 With the Program Management Module, it is clear that Salesforce is investing in solutions for the sector. This is the first step. However, there is still so much for Salesforce to do to achieve our vision of a more connected, results-focused social sector. However, we are excited that Salesforce is now focusing on this area, and we look forward to partnering to achieve the vision.
"The Salesforce platform has been a powerhouse of a product for more than a decade. Our customers rely on its core functionality every day to deliver on its missions. As one of the first developers of the Non-profit Success Pack, I've always seen the value of excellent products built on top of Salesforce to deliver on specific non-profit needs. It's great to see Salesforce focusing on building on top of the core platform for this important sector."

— Steve Andersen, Vice President of Professional Services
Getting Started With Salesforce's Case Management Module
By Josie Alleman, Product Manager, Exponent Case Management 
Salesforce's Nonprofit Cloud Case Management allows organizations to get started with a standard data model that supports many of the fundamentals of human service case management that run a single program. Salesforce's case management module allows human services organizations to collect initial demographics and assessment scores, plan service, track service delivery, log incidents and make case notes. 
Salesforce's NonProfit Cloud Case Management provides an entry-level and reliable way to track important information about clients for organizations making their first move away from spreadsheets and paper-based systems. ECM is delighted to see another wonderful case management product in the Salesforce ecosystem so that human services organizations of all sizes and needs have a choice of reliable products to better serve their clients.
"We were very excited to be a part of the first feedback for these new offerings. It's been so exciting to see the products improve and be released so my team can implement enhanced solutions for our human services clients who need them to serve their most at-risk constituents."

— Jennifer Paquette, Human Services Practice Delivery Manager
Based on the Program Management Model, Salesforce's Case Management functionality is a potential next step in tracking service delivery to report accurate service provision data and gain insights on client progress. Client Cases and enrollments are easy to manage with the Salesforce Case Manager Home Page and Client Snapshot. This is ideal for a small to medium organization with a single program model as it is easy to configure and use.
However, after over ten years of implementing case management solutions, we know that human services organizations are ever-growing with multiple, complex data and outcome management needs. Therefore organizations are likely to have case management needs beyond the current capabilities of Salesforce's NonProfit cloud. These organizations will be the best served by Exponent Case Management — designed and built for larger organizations with multiple programs and funder requirements. ECM enables you to configure comprehensive intake processes, longitudinal assessments, funder management, program fidelity navigation, and more. ECM also contains a powerful outcomes management module that helps ensure your organization is on track to meet expected outcomes for your clients.
Exponent Case Management also contains bespoke modules designed to meet the needs of organizations that offer specific programming:
The HMIS module offers case management for housing programs and includes HUD-compliant reports, drastically reducing the time spent preparing your HUD returns. This makes ECM ideal for organizations that want to ensure they can painlessly report to HUD standards, as ECM will always keep up to date with each HMIS data standard update.
The Workforce Development Module

 

offers industry-standard case management for workforce programs, supporting your program at all stages of a client's journey. This makes ECM invaluable for organizations that offer employment-related services. 
"From an architectural perspective, I'm thrilled that Salesforce is offering a foundation for program and services management that's compatible with the Nonprofit Success Pack (NPSP) data model. We talk to clients with a wide range of human services requirements – from fairly straightforward to extremely complex – and those who desire to link their existing fundraising efforts in NPSP to the services they deliver to gain a full view of their efforts. While Exponent's ECM product scales to support the complex use cases, it's wonderful that Salesforce is investing in human services and will continue to mature a product that enables organizations to manage their programs and services on the Force.com platform."

— Scott Mostrom, Senior Solution Architect
Salesforce's Fundraising Features
In addition to program and case management, SalesForce now offers fundraising and donor management. Check out the blog by Lara Kimberley to learn more about her "Fundraising Favorites in Salesforce." 
Conclusion
One of the best things about the Salesforce platform is the flexibility non-profits can leverage to pick-and-choose features and add-on apps, and it is great to see the program and case management features that meet the needs of simple single programs are offered by Salesforce's NonProfit Cloud. Thanks to its enhanced features, Exponent Case Manamgnet is the perfect choice for multi-program organizations or organizations that run employability or housing programs.  
We'd love to help you navigate the features of Salesforce's NonProfit cloud and help you decide if they meet your needs, as well as show you how ECM can help you leverage the power of your program data to make a real impact on client outcomes. Contact one of our experts today to get started!