Streamline Your Compliance Data with the new HMIS Module
Federally funded housing programs across the country have one thing in common: they must report Homeless Management Information System (HMIS) compliant data to the U.S. Department of Housing and Urban Development (HUD).  This regular reporting to HUD requires an added overhead for organizations like yours that support homeless individuals either as their sole activity or part of a multi-program offer. What's more, the HUD reporting requirements often result in duplicative data entry, which can be time-consuming and frustrating for you and your staff.  
Exponent Case Management (ECM) offers a solution to these issues and streamlines your HMIS reporting and data management through our HMIS Module. The HMIS module provides invaluable support and takes the stress out of your HMIS reporting while ensuring your compliance data aligns and integrates with your case management system, removing the need for duplicate data entry.
What is the HMIS Module?
The HMIS module is a comprehensive starting point for all housing programs, from affordable and transitional housing programs to emergency shelters. Your staff can then spend their time focused on providing outstanding services to your clients.
The HMIS Module is pre-configured with all fields needed for accurate and compliant HMIS reporting while maintaining flexibility to meet your homelessness services case management needs.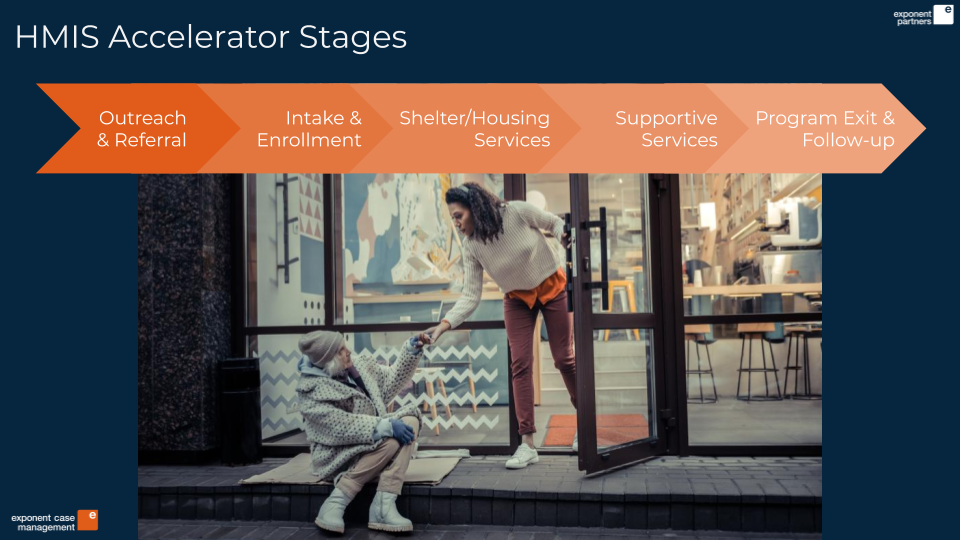 The HMIS Module supports you at every step of your housing program, including:
Outreach and referral:

 Collaborate with local agencies to help serve most underserved clients as fast as possible by utilizing the VI-SPDAT and Referrals Functionality.

Intake and enrollment:

 Collect enrollment information, HMIS project start data, and assess needs information, all in one go with the pre-configured HMIS complaint intake form and support for the Arizona Self-Sufficiency Matrix.

Housing coordination:

 Manage bed capacity, assign beds and track bed nights with ECM's housing data module, meeting the needs of all programs from emergency shelters to transitional housing to permanent supportive housing.

Service planning:

 Assist clients with identifying and prioritizing goals with the ECM service plan and goals features which allows you to target the low-scoring domains in the Arizona Self-Sufficiency Matrix (ASSM). 

Individual and group services:

 Ensure clients are receiving the services they need to achieve their goals and track services delivered with ECM's Individual and Group Service Entry. 

Ongoing assessment:

 Assess clients at your specified intervals with HMIS compliant assessments.

Program Exit and Follow-up:

 Collect all necessary data for successful project completion with the Exit Assessment.
Stress-free HMIS Reporting
The HMIS module ensures your reporting to HUD is as stress-free as possible. The HMIS module supports all HMIS assessment and reporting requirements (including HOPWA, RHY, PATH and SSVF) alongside any program-specific or federal requirements. The inbuilt QA tool helps to ensure your HMIS CSV files are complete and accurate — making your HUD reporting seamless.
Your HMIS module also takes the stress out of updating your reporting every time HUD updates the HMIS reporting requirement, as your module will automatically update to comply with any changes.
The HMIS Module Provides Support for Every Role
The module is designed for all the stakeholders of your organization's housing program, including your leaders, case manager and, importantly, your clients.
Agency Leaders and Program Directors 
The module provides accurate and reliable HMIS reporting at a lower cost. Because all of your HMIS required fields are built into the model along with supporting functionality for accurate HMIS reporting, your staff does not have to spend the time figuring out how to enter HMIS data. Instead use the module as the best practices starting point to configure the rest of your programming. Leadership also benefits from the security and reliability of a trusted SF platform: not only can you do all your case management and HMIS data management in ECM, but you know that you have a stable platform with Salesforce. Leaders gain measurable outcomes and impact data, thanks in part to the pre-configured outcome reports (e.g. average score of the ASSM over time).
Case Managers 
ECM's intuitive and easy-to-master interface enables case managers to focus on client care, not data entry. Social workers on your team will also appreciate that the case management and HMIS data are captured all in one place. Plus, ECM's pre-built intake and assessment forms are all configured with required HMIS fields and out-of-the-box HMIS assessments (e.g. Self-Sufficiency Matrix and VI-SPDAT) for each event and funding type.
Program Clients 
The HMIS Module ensures a quality experience for your program and ensures that services and referrals can begin sooner. In addition, the 360-degree view of each client visible in ECS to the designated staff ensures that your clients only have to tell their housing story one time.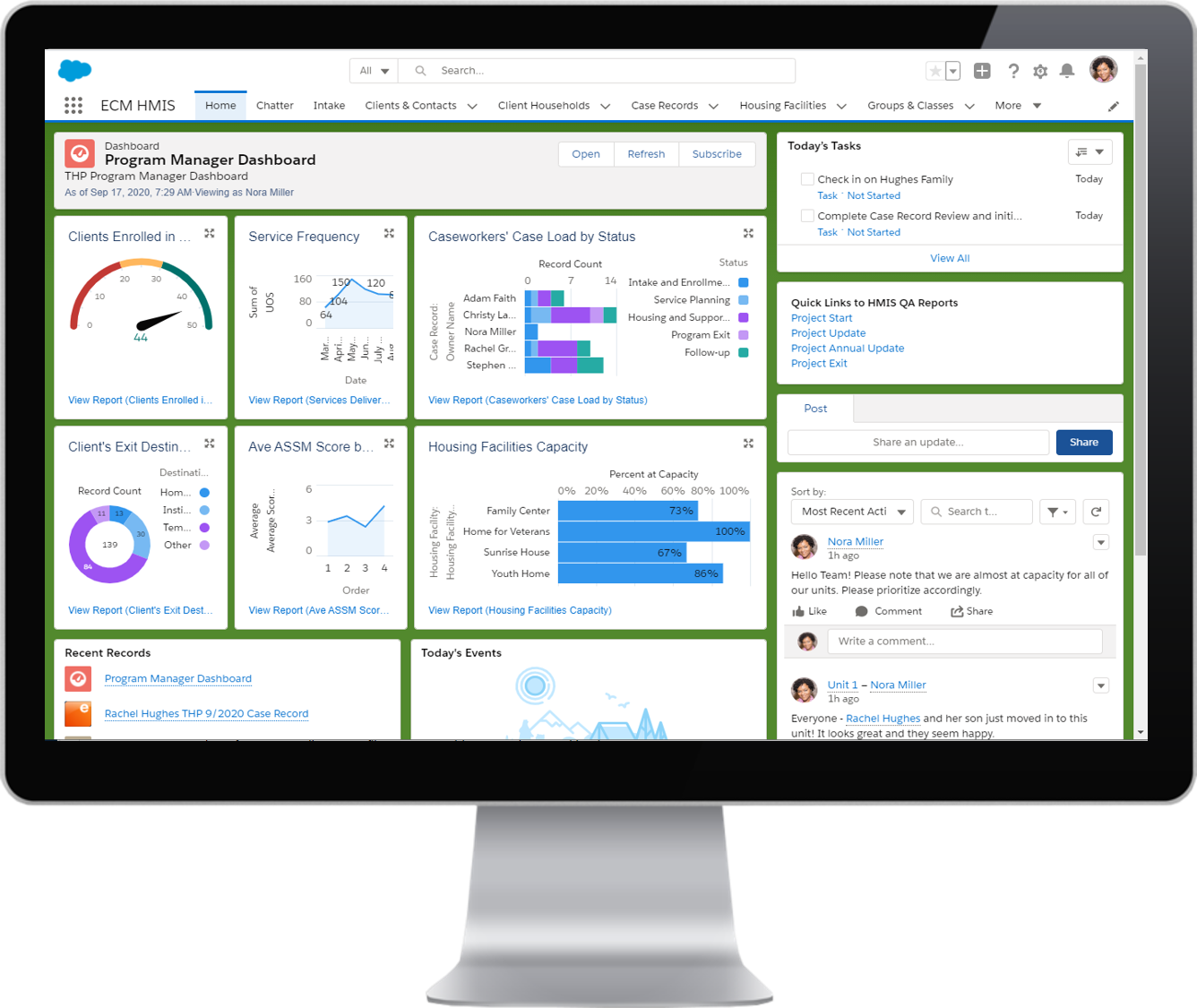 See the HMIS Module in Action
We'd love for you to explore how the HIMS module can streamline your processes and ensure HMIS-compliant reporting through a free consultation with our expert team. You can also watch our on-demand webinar so you can see our easy-to-use HMIS platform in action. We can't wait to help you take the stress out of your HMIS reporting.